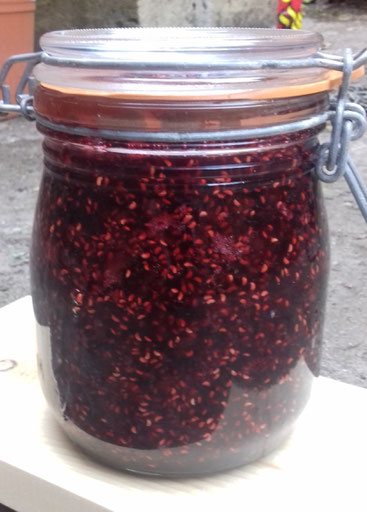 It has been a while since I posted a blog on my website, well I intend to rectify this and you will be hearing a lot more from me via this channel!
The weather in Nottinghamshire has been glorious over the last few weeks and has led to a wonderful glut of soft fruit in our garden. We were very fortunate to inherit a beautiful Raspberry and Gooseberry patch from the previous owner of our home. For me this means one thing, JAM! The recipe that I use is an old family recipe and can be adapted to the fruit that you wish use. I thought that I would share it here for you all to enjoy!
Sherwood Gooseberry Jam
You will need an equal quantity of soft fruit and granulated sugar, I picked 700g of ripe gooseberries so I used 700g of sugar. Gooseberries have a woody 'tail' (I'm not sure what the proper name for this is) this needs to be removed before you start, a sharp pair of scissors should do the trick! You will also need to place a couple of small plates in the freezer (to test the setting point) and sterilize your jam jars (I used a 0.75 litre jar for 700g of fruit). I sterilize by placing clean jars upside down in the oven and set it to 100 degrees Celsius. 
Place your fruit and sugar in a thick bottomed pan, together with the juice and zest of a lemon, and put it on a medium heat. Stir with a wooden spoon until the gooseberries start to burst and the sugar dissolves, the sugar should stop feeling grainy when you stir. Increase the heat to a gentle 'rolling' boil, keep stirring to stop the sugar burning (this will be between 5 and 10 minutes). Make sure that the jam does not splash onto your skin as the sugar will give a nasty burn. Remove the jam from the heat and test the setting point by placing a teaspoon of jam on one of the cold plates. Allow this to cool for about a minute and then push it with your finger, the jam should make gentle creases when you do this. If it doesn't put the jam back on the heat for a few more minutes and repeat the test. If some froth forms on the top of the jam remove this with a clean spoon, then ladel the jam into your sterile jars. Seal the jars and allow to cool. Store in a cool place.
I love to eat my Jam with homemade crusty bread! What is your favourite way to serve it?