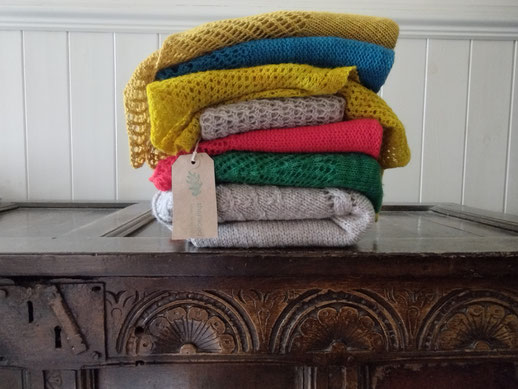 I just love shawls - designing, knitting and wearing them!
Knitters have known 'forever' that they are an essential part of any wardrobe. Justin Bieber seemingly agrees - showing up to the Oscars rocking a stunning handmade crochet blanket - we love your vibe Justin!
A handknit shawl is the perfect piece to transition your wardrobe into Spring and Summer. In case you need convincing, here are our top 5 reasons to make your next cast-on a shawl.
Add that pop of colour to your outfit. I love the colour combos that you can put together quickly and easily! You can never have enough shawls and it's even better if they're all different colours. A top tip from SY is to choose a colour that is opposite, to that of your favourite outfit, on the colour wheel. Go on, give it a try, it does work! The Lyncolne Grene of my Wollaton shawl teams beautifully with my new maroon sweater.
Pleasantly warm or frosty? Here in the UK it is not uncommon to have all four seasons in one day. This week the weather ranged from ice and snow to pleasantly warm sunshine! Shawls are lightweight enough to pack into your handbag or tote. Ideal to wrap tightly in, or loosen - giving bespoke temperature control - ever ready for that inevitable weather change. Greyfriars is my go-to shawl when I have alfresco coffee (or wine …) with the girls.
Shawls and wraps are versatile. I love the limitless combinations that my handknit shawl offers. There are many ways to wear your new shawl - draped, wrapped, pinned…. the options are endless! I often team Ada with a cute silver pin, that was a gift from a treasured friend.
Choose your shape. You can find shawls in all wonderful shapes and sizes, whether it be crescent, triangular or square, the sky's the limit! My first shawl, Much Ado About Nothing, is an asymmetric shape and drapes beautifully on the bias. Whatever your style, there is a shape out there to suit you.
Individuality. Whether you are a beginner or an expert knitter, you can knit a stunning shawl that is unique to you. Pattern choice, fibre type and colour will ensure that no-one will twin with you - unless of course you choose to!
Here are a selection of our favourite shawl designs that you can purchase as a kit or pattern. So why not include a shawl as your wardrobe essential!