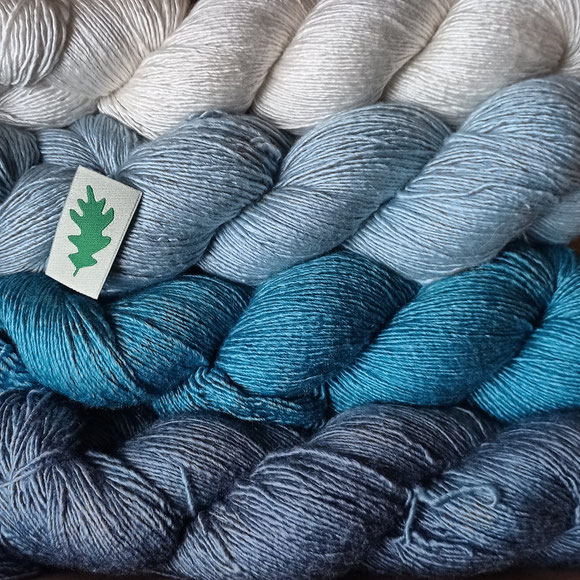 Ok, you have found the perfect pattern that you've been dreaming about…. but the yarn has been discontinued…. yes we've all been there! But worry no more, here are our 3 top tips to help you choose the perfect alternative.
1. Fibre. I can't emphasise this enough - not all fibres are the same! 
If socks are your bag, you will need a yarn that wears well - yes I'm looking at you, put down the silk blend - you will be disappointed (don't worry I have a pattern for that beauty)! A yarn with a little bit of nylon works well or better still one spun with a high twist - that way you don't need to compromise on your environmental ethics. 
For sweaters, think about the finished look. You will want a yarn with good recovery, you don't want to spend all of your time and hard work knitting a heirloom piece to find it grows to the floor after a couple of wears. Wool is the perfect fibre for this, the greater the percentage of wool the better the recovery. If you want drape try silk, alpaca, cotton or linen.
Our top tip is to choose a yarn with similar fibre content to the original.
2. Size matters! Length and weight are so important. If a pattern asks for lace weight then super chunky isn't going to work. 
Look for the weight of the yarn (usually 50g or 100g) and then the length in metres. If this information is lacking on the pattern, those nice people on your favourite search engine can often oblige! You then simply choose a yarn that has a similar weight and length to the original! To make sure that you're not going to run out of yarn work out the total meterage of yarn used in the original and then divide this by the meterage of the skein or ball that you are using as a substitute and you will get the number of balls that you need!
Our top tip is to read the information on the ball band.
3. Gauge. Yes, I know swatching for gauge is boring - there I've said it! But here's a little secret, it's more boring if your garment does not fit or there's not enough yarn to complete it! Once you have done this, lightly block the swatch (as you would your finished garment), count the number of rows and stitches over 10 cm. If you have more stitches and rows than stated in the pattern, you will need to use a larger needle. If you have less, you will need to go down a needle size.
Our top tip is to swatch, there's just no way around it!